ABOUT US and the SERVICES we provide FOR BUYERS  – FOR SELLERS :
We specialize in selling villas, old farmhouses, palazzi and exclusive homes. Our team includes an interpreter and translator, several architects, interior designers, surveyors and a network of Italian property experts. Over the years we have helped many people find and create their ideal home and become a part of the local community. If you would like us to help you achieve this, come and talk to us!
Check out a list of the services that we can offer you: FOR BUYERS  – FOR SELLERS
For further information, also check out A Buyer's Guide: how the purchasing process works in Italy
We can also help with restoration work, directing you to the appropriate professionals, who will help you preserve the original character of the house, while making it comfortable and up to modern standards of living. The local builders that they use, are all skilled in the traditional building techniques and the carpenters specialize in restoring old wood. They also have suppliers of antique materials for architecture and craftsmen who make traditional objects such as pottery, ceramic and textiles.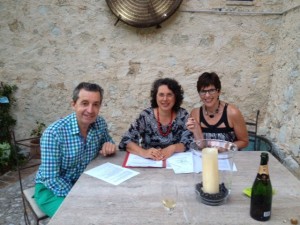 What our clients say about us:
"Adriana is a diligent, patient and personable realtor. For three years she patiently, wisely and successfully assisted our family to sell a house in Umbria. We live in Australia; the co-owner of the ancient, rural house died unexpectedly without an Australian or Italian Will. Visits to the property were limited. Thank goodness we had Adriana in 'our corner'. She went above and beyond to help us every step of the way, in what turned out to be a complicated selling process because of various legalities. From the beginning, she monitored our progress with Australian legalities, liaised with an Italian notary to prepare documents ready for signing when we visited, and worked with a geometra to achieve necessary documentation. Simultaneously she was promoting the property and managing a range of enquiries from potential buyers. The pandemic was another hurdle that coincided with serious offers for the property. Adriana deftly mediated with all parties, in three foreign countries, to achieve the sale. Whenever there was a new 'hiccup' Adriana found a solution. We trusted her judgement and advice. Despite different time zones and travel limitations, Adriana efficiently and effectively communicated with everyone involved with the property's sale.
Her warm personality and good humour made the process far easier to deal with. The property would not have been sold without Adriana's work and perseverance. She never gave up and continues to assist with various bits and pieces even after the deal has been done. Our respect and gratitude for her care over the last three difficult years is enormous.
My family highly recommend Adriana's business, and we are so thankful we found her!
Karen & Tiffany Wertheimer"
"I find it almost impossible to review Adriana, and this is because my words will not be able to fully describe how excellent she is. When you work with Adriana, you do not just have a realtor, you have a new friend; and a friend does for you as no others will. As a real estate investor in the United States, I have worked with many realtors,  but none like Adriana. From my very first contact with her, she was helpful, friendly and encouraging, all with no guarantee she was going to have my business. For months prior to going to Assisi to look at properties, Adriana and I emailed very frequently in preparation for the trip. Obviously purchasing property in a different country is a different process with a lot of unknowns for the inexperienced. Adriana went out of her way to ensure I had all of my ducks in a row prior to my arrival. Searching for the right property with her was a lot of fun and again, it was like being escorted by an educated friend. She even took time out of her schedule to help us do government paperwork and was as invested in our success as we were. Once we decided on a property, she helped in ways beyond her requirements as the realtor. There were many special steps for us because the home was purchased by my company, not myself personally. Document translations, assistance with the Italian consulate in the US, notaries…she even willingly became my power of attorney so I wouldn't have to fly back for the closing. And then a month after the closing when I went back to Italy to open a bank account, there she was, helping me with that process as well. The closing was done, she was paid, she had no reason to be there helping me with the bank account other than it is who she is: A wonderful person who truly cares about your success in purchasing property in Italy.
I cannot overstate how strongly I recommend anyone interested in buying property in Umbria use Adriana's services. She will go above and beyond for you and will make the adventure fun and exciting by easing many of the stresses. I look forward to having a great meal with her anytime I'm in the Umbrian area. My new friend. Karl C. Maritato, President, Prosperity Holdings, LLC"
"Thank you Adriana for your warmth, professionalism and amazing attention to detail. You have enabled us to purchase our "dream home" in Umbria. Buying a home in a country where you don't speak the language could have been a nightmare, instead you ensured that the whole process was stress free and kept us both fully informed all the time. We have been able to transact all aspects of the sale with your support and guidance. You have shown very genuine concern for our best interests and we have felt that you have certainly done more for us than was required. We would unhesitatingly recommend you to our family and friends as a most trustworthy and honest person who we have had the absolute pleasure of doing business with. Stewart and Belinda Callaway"
"Adriana sold my mediaeval hill top home in the Valnerina, Umbria in the summer of 2010 and I can't recommend her highly enough. It was not an easy sale and was fraught with difficulties but her perseverance, good humour, patience and professional relationships with all the parties (geometra, bank, notaio) made the whole process as straightforward as it could possibly be. Even though my Italian is reasonable, the fact that Adriana is bilingual and has also lived in the UK gives you confidence that she is on your side and makes the whole process transparent. Thank you, Adriana! Rachel Crozier"